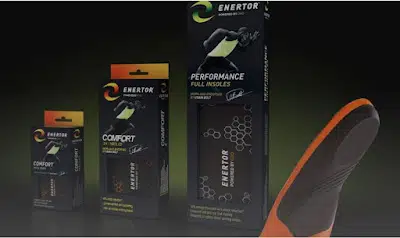 My first Impression on the Enertor products
I was impressed with the speed at which the Enertor insoles and compression socks reached me here in Kenya, all the way from the UK. It only took about three days after ordering them before I got a surprise call to go and pick up my package, much earlier than I was expecting it.
Being worn and endorsed by the world's fastest runner, Usain Bolt, and reaching me in such a record time made quite an impression about the company and the products before I could even tear the package to check what was inside.
In the package were two insoles; the Enertor comfort full insoles and the Enertor performance full insoles. I also got a pair of Enertor energy and recovery socks.
The package arrived at a time when most Kenyan athletes, I included, are taking a break from their training.
But, still, I was very lucky to receive them a few days after running my last marathon of the year; the Nairobi Marathon to aid with my recovery before I can get back to training again. It has even forced me to cut off some weeks from my planned break as I am already feeling energized again and eager to test the Enertor performance insoles in a speed workout.
For now, I have tested the Enertor comfort insoles and the Enertor compression socks and I can admit they actually surpassed my expectations.
It was love at first try for me with the compression socks. I had never ever thought that there was anything that would make my legs feel the way they felt after I wore them for just 30 minutes. The Enertor socks felt comfortable and soft on the feet, and there was some element of cushioning as well. They held tightly and comfortably to the calf muscles and made the whole leg feel lighter in minutes.
According to the manufacturer, the Energy Recovery socks contain advanced "Nilit Innergy" energy return fibers, Graduated Compression and EnergyKnit™ band, made in Italy with the highest quality materials. It is particularly effective in the recovery and preparation phases of training or competition for improved circulation, enhanced oxygen delivery, and decreased lactic acid. It can alleviate cramps and help muscles to recover faster.
At times I find it very hard to keep it a secret after finding something incredibly amazing. After wearing the Enertor compression socks for a while, I told my wife how my legs were feeling and she asked to try them. It later resulted in a fight as she refused to remove them, and that is when I resolved to order some more for her next time.
Both the Enertor comfort and the Enertor performance insoles have the D3O technology (a revolutionary shock-absorbing material in which the molecules flow freely when it is moved slowly but lock on impact to dissipate any force through the rest of the material - reducing the shock of any impact) to help with shock absorption. The only difference is that the performance insoles have an extra harder layer for energy return.
According to the company, Enertor insoles are designed by leading podiatrists to provide the most advanced protection against many impact-related injuries. The unique design features such as the control chassis help to improve lower limb alignment, therefore reducing Tibia and Femur rotation and the stress this can put on your joints. The Met Dome aids the body's natural shock absorption and helps support any height of the foot arch. This, alongside the patented D3O shock absorption technology, means Enertor insoles provide a truly unique protective insole so you can stay injury-free and perform at your best.
Here is what I have observed so far with the Enertor insoles:
It fits very well into any of the shoes I have tried with and is not easily controlled by the shoe on maintaining its comfortable, feel, and shape.
It gives great support to the feet, especially the rear and the midfoot.
I have done some light jogging on them, felt no impact and am eager to still get some more experience on their patented D3O technology shock absorption which is claimed to reduce shock by 44%.
I am also curious to get back in good shape and check my interval times to gauge and document the level of improvement that the "36% energy return in every step" will give to my performance in running.
If there is one thing that cannot be taken away from the insoles, it will be their lightweight, flexibility and comfort.
Usain Bolt endorses Enertor Insoles
It is interesting to note that the Enertor insoles have been used and endorsed by Usain Bolt. They are also now the only shock-absorbing insoles to be mandated by the British Armed Forces, including the Royal Marines and SAS.
"Usain started working with us in the run-up to the 2016 Rio Olympics. He was trying to stay injury-free while undertaking some of the toughest training in his life. We provided him with our latest insoles and he liked them so much he agreed to become our brand ambassador
Just one of the many sporting professionals to wear our insoles," the company has this on their website.
For more information about the Enertor insoles and other products, visit their website HERE