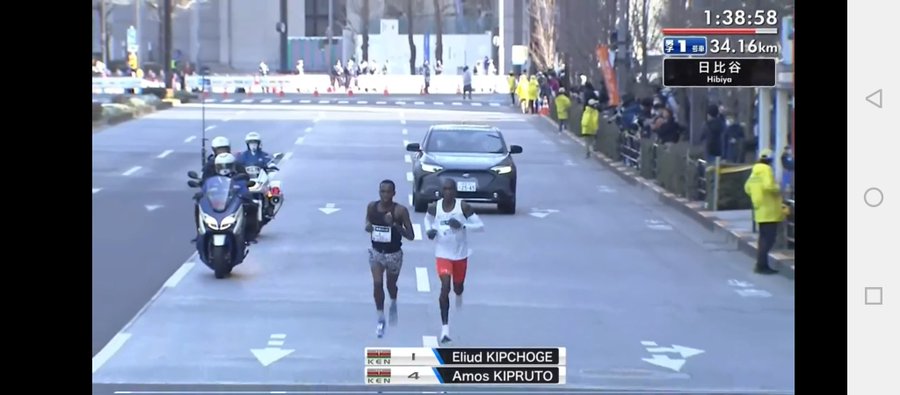 With two third-fastest times in history and two new course records being set by the reigning world marathon record-holders; Brigid Kosgei and Eliud Kipchoge, the 2022 Tokyo Marathon will definitely remain as one of the memorable marathons in history!
With four Japanese runners and four Kenyans in the top ten today, it is apparent that Japan is following up in the footsteps of Kenya in marathon running.
Kenyan fans woke up at 3 AM to cheer and support their favorite marathon runners; who did not disappoint.
Below is the story I did for RunBlogRun.
Brigid Kosgei ran an amazing race to win the women's marathon this morning at the 2022 Tokyo Marathon, creating a gap of almost two minutes to run the third-fastest time of 2:16:02 in the history of the marathon. This becomes a new course record for the Tokyo Marathon.
Kipchoge continued to inspire
Eliud Kipchoge, too, continued to inspire the world with another record-breaking run where he also set a new course record of 2:02:40 to comfortably win the race. Amos Kipruto who comes from almost the same place as Kipchoge in Nandi County in came second in 2:03:13; the 33 seconds between them being probably less than the kilometers that separate the homes the two runners were born. Ethiopia's Tamirat Tola was third in 2:04:14.
Kipchoge definitely needed this win more than anybody else in the elite field as it was part of his quest to win all the world marathon majors. He now has two more to go; the New York City and the Boston Marathons. So far, he has already won the Chicago, the London, Berlin, and now the Tokyo marathon.
Kenyan fans woke up at 3 AM in the morning to cheer on their marathon runners, but it was a bit frustrating to find a working link to watch the race here, and there was no broadcaster airing the race as well. By the time I found a working link on Facebook, the runners were already 9.5km with a pack of 8 slightly ahead of Ethiopia's Shura Kitata.
Shortly after getting the link, the leading motor-cycle took the leading runners in a wrong turn momentarily and Kitata almost closed the gap again, but the gap quickly grew again.
Read More at RunBlogRun Eliud Kipchoge and Brigid Kosgei both run third fastest times in history to smash course records at the 2022 Tokyo Marathon