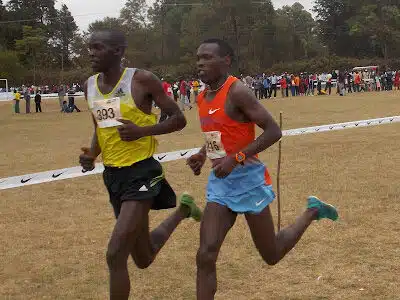 A runner may have done enough training to run well in a race, but without the right mental preparation going into the race, all the training might become useless.
They say that experience is the best teacher, and if there is one place that this applies more, it should definitely be with the mental preparation among Kenyan runners getting ready to run their dream races. Some runners learn about the best ways to deal mentally with their races through experience, while others are taught by a coach or by fellow runners.
Wilson Kiprop's story on mental preparation for his race
One of the runners that have impacted me more on how to be tough and courageous in a race is Wilson Kiprop, the 2010 world half marathon champion. He told me how determined he was to finish in a podium place at a local race before no one ever knew about him.
He had never finished in the top ten positions at any big race before. But here, the race meant everything to him. He had no more food where he stayed away from home, no money, and no one to ask for help. He was in Nairobi, and he wanted to win some money at the cross country race to enable him to travel back to Eldoret. The race was paying the top three finishers only. He had to employ his mental preparations to win some money.
At the starting line, they called the biggest stars in the race to step in front of the rest. There were over fifteen runners, most of them being either reigning world champions, world record holders, diamond league trophy winners, and runners with world-leading times for the year, among others. It scared Kiprop so much that he had no idea how he ended up shouting in an effort to reassure himself that he stood a chance.
"Even us, we are also big stars!" Kiprop shouted and looked around for approval.
Surprised, all the runners at the starting line turned to look at him. Some laughed at him. Some looked at the seriousness in his eyes and encouraged him, that, indeed, they –the rest of them not called to step forward- also had the potential to win the race.
Kiprop told me how he fought hard for his life in that race. It was a 12km cross-country race of six 2 km laps. He was running at his maximum from the start but was still far from the leaders in the first few laps. Every part of his body was hurting, but he was scared at the same time of what would happen to him if he would not win some money at the end of the race. He had no option, but to finish in the top three positions. He kept pushing hard. His body felt numb in some parts, especially in his arms.
The race eventually came to an end, and Kiprop crossed the finish line with a terrible and strange feeling all over his body. He could not hear any sound as he had momentarily turned deaf, and he could just look at his arms. They felt as though they were not his. He could not feel them. After he recovered, he learned that he had finished the race in the third position. Finally, he had the money to go home! His mental preparation worked!
This was the hardest race that Kiprop ever ran in his life, so far. It was the race that opened the doors of success in his running career. It was a race that also taught him about mental preparation ahead of his races.
Years after this run, he once confided in me that, as long as you are healthy, no matter how hard you push in a race, the worst that can happen is for you to just faint, nothing serious.
Whenever he was in good form, Kiprop's races were worn by long continuous hard paces. One may have had the speed to beat him, but he would have the perseverance to endure the tough pace longer, and enough for one to give up the fight. This was evident in his race to win the world half-marathon championships title in Nanning after running shoulder to shoulder with Zersenay Tadese and preventing the latter from winning a fifth consecutive title.
Mental preparation happens in training
Mental preparation doesn't happen just on race day. It happens in training. Tough athletes learn to be self-disciplined in finishing their workouts, holding on to tough paces in tough group runs, and believing in themselves.
"These workouts are getting tough, but I know if there will be one athlete to faint, it won't be me," one runner once told me as we did a good number of track intervals one day. It made me realize that being tough is acknowledging that everyone is also feeling what we are feeling and that we should never accept being the weakest, and the first ones to step out of tough workouts.
If you think you can't; then you can't. Race winners often figure themselves winning their races even before they run them. The ones who know they can win are the ones who win. But, It is not just about knowing and waiting to win. It includes knowing how hard you will have to push to win it; how you will run your race, and what realistic steps you are taking to achieve that.
Confidence and mental preparation are found in conquering the different challenges and goals in one's daily training run; meeting the target times in one's intervals and time trials; accomplishing certain miles in one's long runs; by sticking to a training program to the end, and by being able to hold on to certain paces in training.
On race day, mentally prepared athletes will look back at all that they have done leading up to their race and will know that they have all it takes to win their race.
"You never know how strong you are until being strong is the only choice you have." —Bob Marley