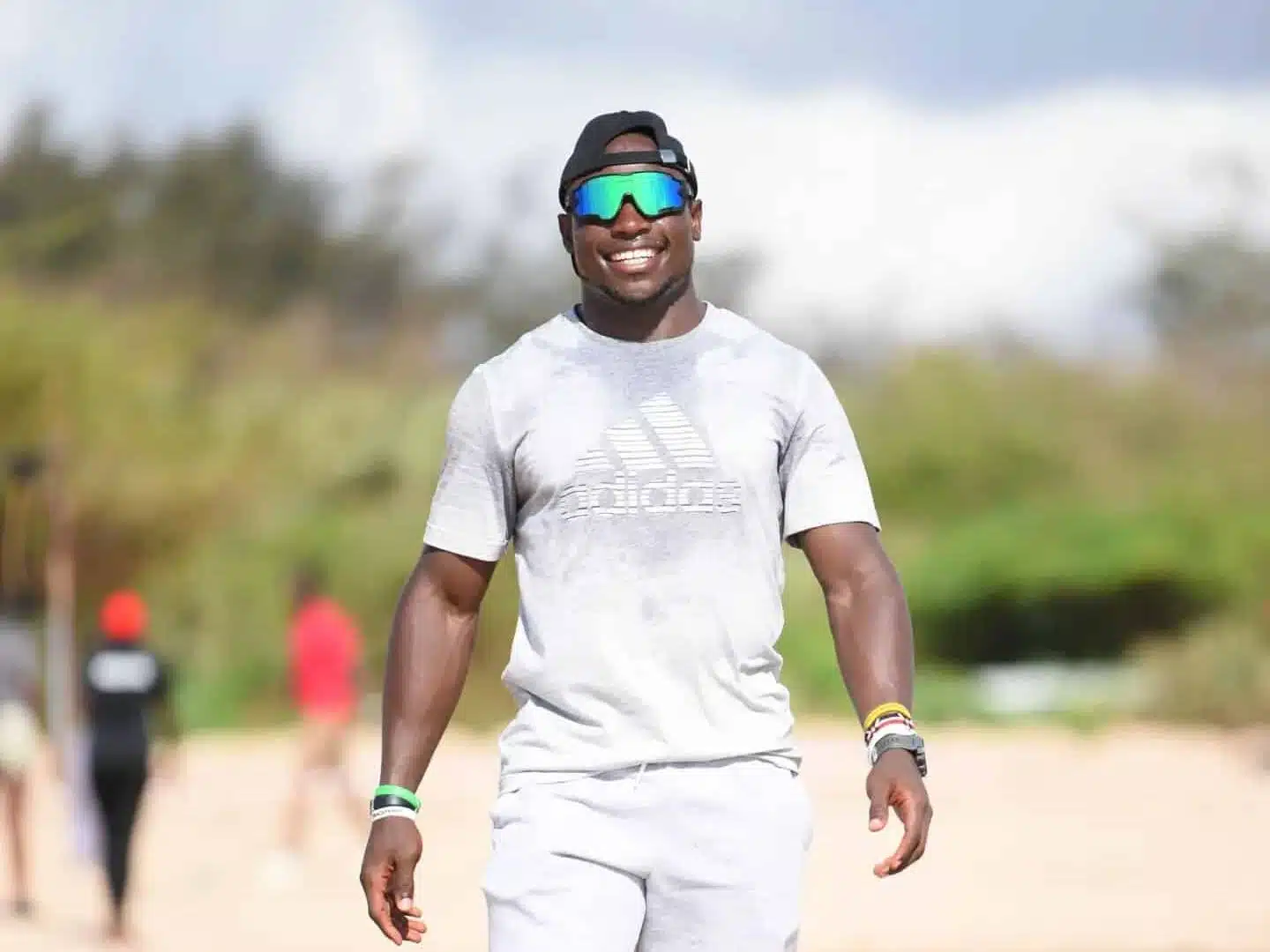 Ferdinand Omanyala has, single-handedly, opened up a new opportunity for Kenyan runners. He has shown them that it is possible to excel in the sprints, too, as a Kenyan. The main challenge that the sprinters in Kenya faced for a long time, was that no one believed in the fact that Kenyans could do well in the sprints. Omanyala has solved that, but many other challenges remain.
"It takes only one man to bring a big change. I believe there will come other Kenyans who will run faster than me, but people won't forget who started it all," Omanyala said in the interview below that I had with him while he headed out to South Africa for his outdoor competitions.
Below is a sample of the interview, with a link to the entire article at RunBlogRun:
Omanyala's plans for the World Athletics Championships in Budapest
Will Ferdinand Omanyala, the fastest man in Africa, become the first ever African to win a 100m World Title in Budapest this year? Well, everything points out to that possibility. The athlete himself is focused, determined and gearing well toward the huge task ahead of him.
"My main target this year is to become the first African man to win the World Championships in the 100m event," said Kenya's sprint sensation, Ferdinand Omanyala.
So far, the reigning African and Commonwealth Games Champion has remained unbeaten in the 100m this year. He says that his training has gone according to plan and that his main goals for the year include setting another African record and going for an unprecedented world title in Budapest.
Omanyala is glad that the Diamond League season finale will happen in Eugene Oregon, the venue of the last World Championships, where he feels he was not able to perform to his best level due to the late issuance of his visa that saw him arrive there just about two hours to his race. He is eager to go back there, just to check what he was capable of achieving last year.
"Training has gone so well. The year started well with the indoor season in France where I had some very good performances and just broke two national records within a week. After the indoor tour, we went into one month of training without competing, then came back in March and ran three sub-10 seconds in two days. It is an indication that the indoor season really helped," the fastest man in Africa said. He set a new Kenyan national record of 6.54 for the 60m sprint in Lievin, on 15th February.
"I am a record-breaker and a history-maker, and I believe I am going to achieve my goals this year," said Omanyala.
Currently ranked at number 7 in the world according to the World Athletics ranking, Omanyala will be facing some of the world's best sprinters at the Botswana Golden Grand Prix at the end of this week, on the 29th. They include Marvin Bracy of the US and Letsile Tebogo of Botswana.
What does he aim to do at the Kip Keino Classic CTG meet?
After this, Omanyala will come back home to his favourite event in Nairobi. The Kip Keino Classic that will happen on 13th May. He has always impressed here since the memorable 2021 race, where he set the African record.
"I am promising another new African and national record at the Kip Keino Classic this year if it will not have been broken by then. Even if it is broken before then, I will aim to break it again," he said.
"Kip Keino is my home ground. People have also come to believe that this is where fast times are run. The biggest focus in African athletics is in Kip Keino Classic, and I can say it is my favourite event.
"I have so much respect for the Kip Keino Classic event, and I believe that it will be my last race before I retire in athletics.
"This event is going to grow bigger, and I am urging fans to come out, fill the stadium and enjoy the event next month. The atmosphere at the Kip Keino Classic is always great.
"I love competing in Africa," Omanyala, who ran a new African record of 9.77 at the Kip Keino Classic event in 2021, said,  adding that the other event he will be looking forward to competing in Africa is the Rabat Diamond League meet in Morocco.
Omanyala's early life
The 27-year-old who was born in Western Kenya in Vihiga, Kakamega, raised in Tongareni Bungoma and stayed in Kitale, Trans Nzoia for most of his early school life also looks forward to competing in other diamond leagues outside the continent. He mentioned the Paris and Monaco –where he hopes to run a fast time- Diamond leagues as some of his favourites. "And, of course, the Diamond League final in Eugene, Oregon," he said.
Omanyala is happy to have been the first Kenyan to open up interest among Kenyan runners to take up the sprint events seriously. Not only is Athletics Kenya seeing a huge number of entrants in the sprint events, in what has been termed the "Omanyala-mania" across the country, but close relatives of Omanyala are also yearning to take after the great star. His youngest brother is already making a name for himself in the sprints.
"I have a supportive wife, called Lavender and a young son. I also have four brothers, and I am the third born. The first and second-born have finished their studies. The one who follows me is in Jomo Kenyatta University of Agriculture and Technology doing architecture, and our last-born just finished high school at Alliance high school. He is also Sprinter and is called Isaac Omurwa. We're mentoring him and hope that he'll become bigger than Omanyala one day.
"I thank God that my parents were supportive of my talent. My dad bought me my first-ever kids' spikes and running kits. He was also a sprinter during his time in high school, but he focused more on football. My mum was also always there to call to ask how my training was going and to pray for me," Omanyala said of how lucky he was to have such parents and that he would urge other parents out there, "Don't look down upon your children's talent, don't force your children to go to school only when they have other talents," he said.
Omanyala, who was at one time a volleyballer, a basketballer and, more recently a rugby player, recognizes the role that his school life played in helping him discover his talent and observes that schools should play a key role in helping other upcoming stars realize their talents.
His coach, Duncan Khaemba, has been a great coach and close to him like a family. His management, too, "have never put money first" while working with him, but care more about his interests as an athlete. "They don't just look at the track aspect, but they are also involved in my social well-being," he said.
Read the entire interview at RunBlogRun: Omanyala hopes to make history, as the first African to win the 100m world title in Budapest