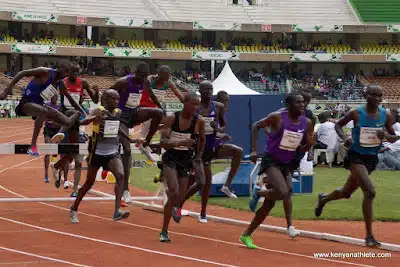 As the world slowly changes into a big global village, should there be any problem with Kenyan athletes changing their citizenship to provide room for other Kenyans to shine; to market shoe companies in other parts of the world; to represent other nations at the Olympics, and to promote other sporting brands in different countries?
It is understandable when some international road races set some parallel prize money structures to reward runners from their countries as a way to encourage upcoming runners from their nations too. This will clearly encourage some healthy competition among the locals and, in the long run, strengthen the nation's runners to be at the same competitive level as the international runners (Kenyans and Ethiopians, mostly).
It is also understandable when some running shoes and apparel companies just choose to sponsor runners from a certain region on the continent with the claim that their stores are located in their countries and that they feel the athletes from such places would best help represent and market their brands there.
It is also quite understandable and only natural that one would want to see a countryman, even a relative, or someone close to you win a major race in your country. But, it should be encouraged to happen in a fair manner.
Ways should not be devised to have only a few selected runners compete against those they believe they have a better chance of beating if the spirit of sport is to be maintained.
Runners will often try to find other reasons besides their lack of sufficient hard work to explain why they were beaten in a race.
The origin of an athlete should definitely never be an excuse!
Turkey, Bahrain, Belgium, Qatar, South Korea, Israel, Sweden, The USA, and many other countries have been taking runners with East African origin, especially Kenyans and Ethiopians, to represent their nations in inter-continental competitions, Olympic Games and world championships.
It is not just Kenyan athletes changing their citizenship.
Kenyan athletes, for example, are needed, for many different reasons, in countries where they end up taking new citizenships. France and The USA, for example, have usually needed Kenyans to fill up their army troops for other purposes other than running.
Once they are in those armies, they end up doing what Kenyans are known to do best at the same time while serving their new nations, and it would be unwise to deny them a chance to showcase their talents wherever they end up.
But, it seems, we still have some people having a problem with Kenyan athletes changing their citizenship.
This article takes a deep look into what makes these athletes accept to take their talents to benefit those countries as well as make a living for themselves in the process; what this means to the sport - running for this matter-; what it means to the communities where the athletes will end up after acquiring their new citizenships; what it means to their communities of origin, and what it means to the individual athletes in person.
I have a conviction that the law of demand and supply should be allowed to take its course, as long as the right legal structures are followed. Kenyan athletes changing their citizenship usually follow the right stipulated channels by World Athletics in getting their new citizenship, just like other professionals who seek asylum in other countries do.
Running is a profession unlike any other. If a journalist, a doctor, a farmer, a lawyer or any other professional is free to look for greener pastures out of their countries, I do not see any good reason why runners should not have the same freedoms to move to a country where they believe their services will be more valuable and appreciated more and settle there.
Kenyan runners, and others of East African origin, continue to show their supremacy in long distance running by winning a good number of races around the world almost every weekend, at times setting new world and course records.
There were some fans with concerns, though, when two Turkish athletes, Kaan Kigen Ozbilen and Can Yasemin, won the men's and women's European cross country titles in 2017, and their origins were traced back to Kenya.
Some fans seem to be uncomfortable with the fact that athletes of East African origin who have changed their citizenship and now represent other nations are winning races for their new nations. However, it is hard to pinpoint the exact reason for the discomfort. Is it the fear that the East Africans are unbeatable? Is it the issue of the unleveled playing field? Or, is it an issue with feelings?
Athletes of East African origin are beatable
Some runners have begun steering away from the notion that athletes of Kenyan origin have to be avoided in races for them to win, and the results can be seen: USA's Shalane Flanagan recently beat the women's only marathon record holder, Mary Keitany to win the New York City Marathon; Galen Rupp beat the two times world champion, Abel Kirui to win the Chicago marathon while Sondre Moen of Norway beat Uganda's world champion, Stephen Kiprotich to win the Fukuoka marathon.
In Kenya, we import foreign professionals/experts to work in the medical, marketing, construction and in many other fields and many would end up becoming Kenyan citizens. Why can't we allow other countries to export athletes from us too? After all, we have thousands of Kenyans moving out of the country to work in other jobs too, ending up changing their citizenships in the process. At the moment, many Kenyans have changed their citizenships and settled in Australia, others have joined the US military. So, where exactly is the problem with changing citizenships for sports' purposes?
The reason often being given out is that athletes should not be changing their citizenship purposely for sports, but they can change for other reasons like jobs opportunities, etc. If sports are as important in life like any other sector, like business, tourism, journalism, then it is time to agree that if a big corporation can identify a great talent to work with them and feel free to employ anyone regardless of their origin, then it should not be so different when a nation wants to develop its sports sector by getting more professional athletes in their countries to promote health and fitness, or even to market their country in world competitions.
Already, due to IAAF label road races requiring elite athletes from over 5 countries, it is getting harder for Kenyan athletes to get invited to run in these races if they have never run under 2:05.00 for a marathon because there will be another Kenyan who already has that time. Currently, a US or Canadian runner with a personal best time of 2:12:00 is probably more marketable and more likely to be invited to a big marathon that a Kenyan who has run under 2:05:00. So, it is understandable why they may be more useful in other countries.
Some brands that market sporting products at times would like athletes to be based in countries where they think they will find a larger market for their products. Professional athletes should be allowed the privilege to be employed, as runners, in places where their value is more.
Some Kenyan-born athletes have changed their citizenship, and this has resulted in benefiting both their new countries and their communities of origin.
Examples of athletes of Kenyan origin who now benefit others with their talents
Bernard Lagat, the second fastest 1500 m runner of all time, behind Hicham El Guerrouj, was born in Kapsabet, Nandi county of Kenya. But, changed his citizenship and is now a US citizen. Whenever he gets to qualify as any other US citizen at the national trials, he represents the country at international competitions. If he doesn't, he remains just a US citizen like any other.
He now holds American records for the 1500m and the mile for indoors, the 1500m, the 3000m, and 5000m Soutdoors, and is the Kenyan record holder at 1500 m outdoors.
Lagat is a five-time Olympian, having competed in 2000, 2004, 2008, 2012 and 2016 games, and is a thirteen-time medalist in World Championships and Olympics including five gold medals.
Despite having moved to the USA, Lagat's heart is always close to his family and community in Kenya. At one time, he did talk fondly about her eldest sister and her younger sister as some of the people who motivate him to work hard in his running career.
With the resources he got from representing the US, Lagat has even mentored his younger sister, Viola Cheptoo Lagat, who now represents Kenya in the road races.
It is like he is doing this to give back to his elder sister.
"She (Mary Chepkemboi) laid the foundation for all of us in the family to follow running, to appreciate running, to respect runners, and to respect running as the family sport. She is the one who did everything for us. She told me I could be somebody out of this when I didn't know what being somebody out of the running was. She said I could be a world leader, a gold medallist, an Olympic champion, and those are the things that still resonate in my mind. She said it a long time ago but it is as if she said it yesterday," Said Lagat, ahead of the 2008 Olympic Games in Beijing.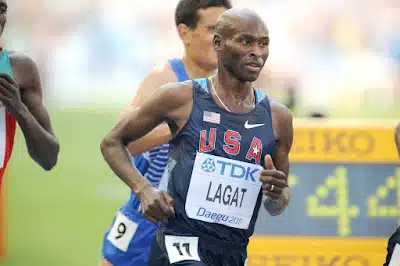 "My older sister is rooting for me right now, and we always talk together. She tells me: 'Be cool, concentrate; you have won all (but one of) your races. Now I want to inspire my little sister. She looks up to me. She doesn't look up to anybody else. I like the fact that she wants to work hard, to be successful like I am. When she competes, I try to go to watch her and give her my support."
Clearly, the USA has given Lagat a great platform to excel in his running career for the benefit of all; the Americans, Kenyans and to the running community across the world.
Saif Saeed Shaheen of Qatar, formerly Stephen Cherono of Kenya, who holds the men's 3000m steeplechase world record, was born in Keiyo, Kenya, but did change his citizenship in 2003 and has been representing Qatar since then. He is a two-time World Champion in the men's 3000m steeplechase.
Shaheen has helped raise the flag of his new country high a number of times in international competitions and helped market the country out there.
At the same time, from the money that he was earning in Qatar, Shaheen invested back in his country of origin, having bought a large farm and engaged in farming activities in the country. This has helped his local community in a number of ways, from providing some employment to people in the community to increasing food production in the country.
Shaheen was also instrumental in assisting New Zealand twins (Zane and Jake Robertson) in settling in Kenya while they began their ambitious plan to train like the Kenyans. So far, the two brothers have been successful in their running careers and turning into perfect examples that it is actually hard work that can make one win major competitions and not their origin.
Meanwhile, some runners who are afraid, or too lazy, to work as hard as the Kenyan runners still try to find excuses for not even participating in races in their own countries. I saw this on social media recently:
"Was gonna run in the #AccessTheLife #LagosCityMarathon, then I saw a Kenyan at the d registration point," said one of the Nigerians on Twitter in an attempt to explain why they could not run a marathon in their country.
Another one did put it more bluntly. "While some of us are still sleeping, an Ethiopian has won the #LagosCityMarathon already. I can never participate in that thing until they ban Kenyan & Ethiopian Athletes from running."
If the trend continues, perhaps it will reach a time when running will be left to one country, football to another, basketball to another, swimming to another, etc.
Here is some good news: I offer Marathon and long distance running online coaching if you are interested in improving your running.