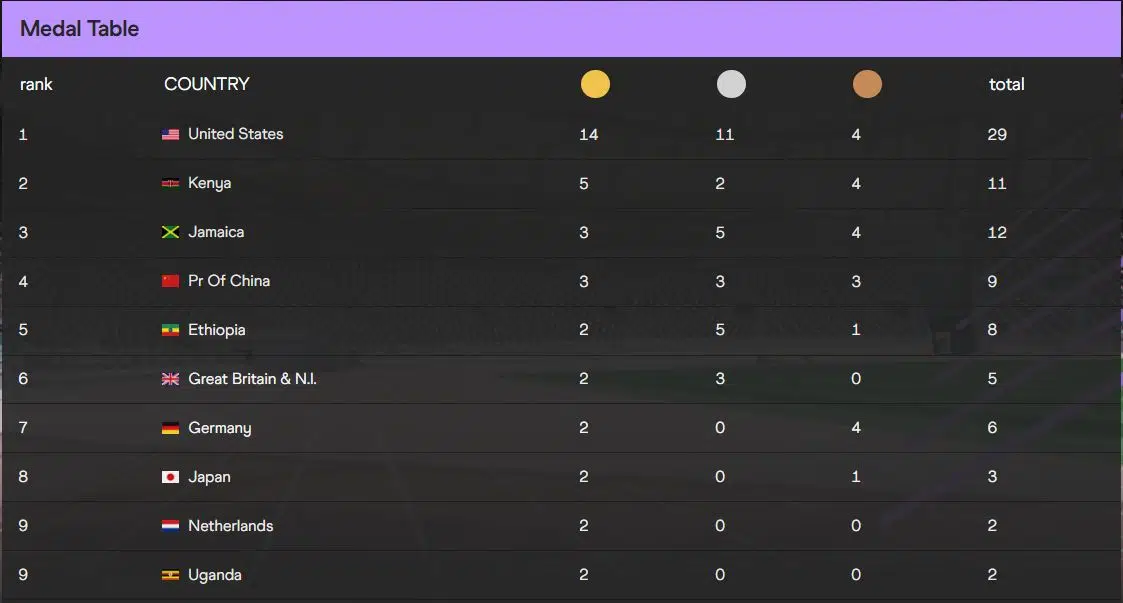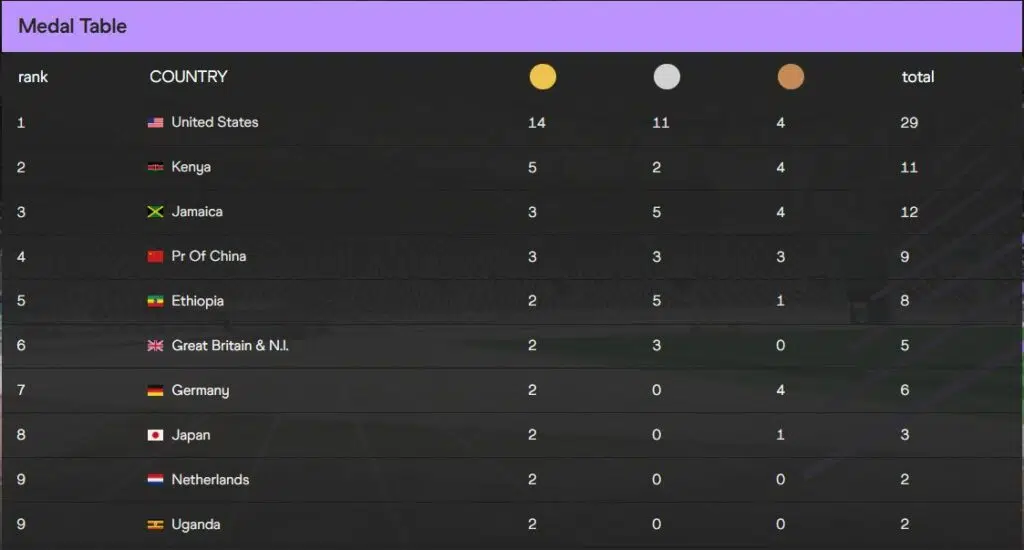 Here is how the medal table will look at the end of the Oregon 2022 World Athletics Championships; backed by the seasonal best performances of the athletes.
Yes, I would agree that it is not straightforward that athletes with world-leading performances end up as gold medalists in the upcoming major championships, but it could be the best of any other ways to predict the possible medal contenders. For example, Venezuela's Yulimar Rojas, USA's Athing Mu, and Kenya's Faith Kipyegon have world-leading marks in their respective events, and there is a high possibility that they could turn them into gold medals in Oregon.
There are some leading performances as well, with no other winning streaks to support the chances of the athletes winning the gold medal, like Grant Fisher's 26:33.84 world-leading time in the men's 10,000m.
Also, there could be huge surprises in some events and major upsets in others, but I still find that there are countries that stand better chances of winning gold medals in certain events, than others. A Fruit does not fall very far from the tree. Whatever will happen, Kenya stands a better chance to win the marathon events, especially after Brigid Kosgei and Eliud Kipchoge ran third fastest times in history to win 2022 Tokyo Marathon titles, while Jamaica's chances look more favorable for them in the women's 100m.
To be fair, it would be prober to give the two gold medals in the 10,000m to Ethiopia and Uganda to share.
The medal table at the end of the Oregon World Championships will most likely look as follows:
The USA will top the medal table with 14 gold medals, Kenya will follow with 6 gold medals; Ethiopia, China, Germany, and Great Britain will each have 2 gold medals with other medals (silver and bronze)determining their positions on the table.
Other nations that are almost assured of a gold medal include Jamaica (women 100m), Venezuela (women Triple Jump), Kazakhstan (women 3000m SC), Morocco (men 3000m SC), Brazil (men 400mH), Poland (Hammer Throw men), Ukraine (Women High Jump), Netherlands (Heptathlon), Spain (women race walking), Cuba (men triple jump), Grenada (Javelin Men), and Japan (men race walking).
Below are the world's leading athletics performances this year, as of 17th June 2022 according to World Athletics Top lists. I used the same while compiling the medal table.
Women:
100m: Shelly-Ann Fraser-Pryce of Jamaica with 10.67
200m: Abby Steiner of the USA with 21.80
400m: Marileidy Paulino of the Dominican Republic with 49.49
800m: Athing MU of the USA with 1:57.01
1500m: Faith Kipyegon of Kenya with 3:52.59
5000m: Ejgayehu Taye of Ethiopia with 14:12.98
10,000m: Elise Cranny of the USA with 30:14.66
Marathon: Brigid Kosgei of Kenya with 2:16:02
3000m SC: Norah Jeruto of Kazakhstan with 8:57.97
100m H: Jasmine Camacho-Quinn of Puerto Rico with 12.37
400mH: Sydney Mclaughlin of the USA with 51.61
High Jump: Yaroslava Mahuchikh of Ukraine with 2.00
Pole vault: Sandi Morris of the USA with 4.81
Long Jump: Malaika Mihambo of Germany with 7.09
Trible Jump: Yulimar Rojas of Venezuela with 14.83
Shot Put: Jiayuan Song of China with 20.20
Discus Throw: Valarie Allman of the USA with 71.46
Hammer Throw: Brooke Andersen of the USA with 79.02
Javelin Throw: Maggie Malone of the USA with 65.73
Heptathlon: Anouk Vetter of the Netherlands with 6693
20km Race walking: Second to Russia's Elvira Chepareva is Jiayu Yang of China with 1:27:14
35km race Walking: Second to a Russian is María Pérez of Spain with 2:39:16
4x100m: Great Britain & NI of Great Britain leads with 42.29
4x 400m: Kentucky of USA leads with 3:21.93
Men:
100: Ferdinand Omanyala of Kenya with 9.85
200m: Erriyon KNIGHTON of the USA with 19.49
400m: Michael NORMAN of the USA with 43.60
800m: Max BURGIN of Great Britain with 1:43.52
1500m: Abel KIPSANG of Kenya with 3:31.01
5000m: Nicholas Kipkorir KIMELI of Kenya with 12:46.33
10,000m: Grant FISHER of the USA with 26:33.84
Marathon: Eliud Kipchoge of Kenya with 2:02.40
3000m SC: Soufiane EL BAKKALI of Morocco with 7:58.28
110mH: Devon ALLEN of the USA with 12.84
400mH: Alison Dos Santos of Brazil with 47.23
High Jump: Ilya IVANYUK an Authorized Neutral Athlete (ANA) with 2.34
Pole Vault: Armand DUPLANTIS of Sweden with 6.02
Long Jump: Simon EHAMMER of Switzerland with 8.45
Triple Jump: Jordan Alejandro DÍAZ FORTUN of Cuba with 17.76
Shot Put: Ryan CROUSER of the USA with 23.02
Discus Throw: Kristjan ČEH of Slovakia with 71.27
Hammer Throw: Wojciech NOWICKI of Poland with 81.58
Javelin Throw: Anderson PETERS of Grenada with 93.07
Decathlon: Garrett SCANTLING of the USA with 8867
20Km race walking: Vasiliy MIZINOV (ANA) with 1:17:47
35km Race Walking: Masatora KAWANO of Japan with 2:26:40
4 x 100m: Germany with 37.99
4 x 400m: the USA is second to an international team with 2:58.53