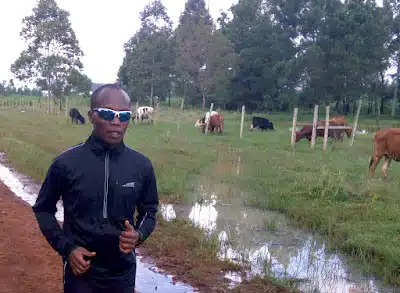 I am deeply indebted to Eliud Kipchoge's coaches and training group for allowing me to join them in most of their training runs, especially the track intervals. Despite it being such a rare chance, a spectacular experience, and a great learning opportunity, it is obviously not an easy task trying to keep up with this group in training.
Some 800m track intervals with Eliud Kipchoge's group
In order to cover a distance of 800m, one has to simply do two laps on a standard 400m track. But, trust me, you will easily lose count of the two laps when you do your best to stick with Eliud Kipchoge's group during their interval training.
It has happened to me a number of times when I got the rare opportunity.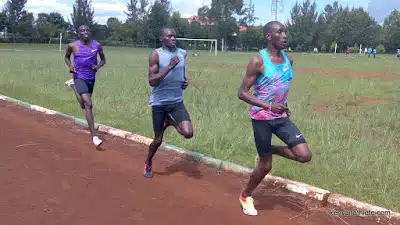 The good thing is that the runners would finish the intervals ahead of you, and you will see them stop running, and you will know exactly where to stop as well.
I have no problem counting one to two; it is very simple. The trouble comes in forgetting the point where the intervals started as the focus shifts more to prevent a gap from developing ahead. With a long line of runners behind me, I always get some guilty feeling if I let a gap develop ahead of me as I would be letting down so many runners behind me who would perhaps have been able to maintain the requested pace.
By the first 200m, with some runners behind you pushing you not to leafe any gap in front of you and the pace being hard, the temptation to drop out is already there, but seeing everyone around persevering, I would keep going. Most of the intervals here would often be between three to five laps of real perseverance.
With the maximum effort that I would put in trying to maintain the gap in the first interval, the next interval would begin while I still feel that I would still do with a little bit more recovery time and would slowly begin moving backwards to begin almost behind everyone else in the group and escape the pressure of being caught in the middle.
It would get harder and harder to recover enough as the intervals progress, and, not just me, but many other runners are forced to run on the grass across the field to catch the next interval.
Others would skip one interval in order to recover enough to tackle the next, which I think is a wise decision.
While it is extremely hard to finish all the workouts in this group, there is some reassurance in the fact that those in the leading pack of the intervals are aiming to run times ranging from 1:59.59 to 2:03:00 for the marathon and trying to keep up with them will surely, definitely and hopefully result in a time close to 2:10.
Even some of the best runners in Eliud Kipchoge's professional group would, at times, drop out before finishing their track workouts. Some would even forget their shoes on the track after the workouts. Not sure if in a hurry fearing that the coach may call them back to do one more workout!
I have a friend who recently joined Eliud Kipchoge's group, and he recently asked me to help ask around if anyone saw some new racing shoes he left the previous week on the track.
I only wonder whether Eliud Kipchoge feels the same pain like the rest in the group while doing the intervals.
If you need an online long-distance running coach to guide your training for your next marathon, You can enroll in my Online coaching programs
Feel free to follow me on Twitter