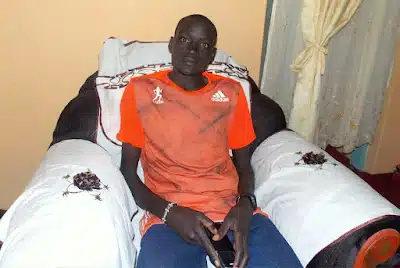 With four days to go before the Berlin Marathon in 2014, I caught up with Dennis Kimetto in Kapng'etuny, Kenya, as he finalized his training before heading out to Berlin. He is a man of few words, but the few words he told me, supported by hard facts, made me wonder whether the world marathon record was not as good as broken.
Here are the reasons Dennis Kimetto was confident
First of all, the weather predicted for that Sunday (the 28th of September 2014) in Berlin would be more favourable than the previous year when Wilson Kipsang broke the record. The predicted wind speed would be a force of 2 on the Beaufort scale, while it was 5 when Kipsang ran, although the temperature was expected to be slightly warmer.
Kimetto himself believed that the Berlin Marathon course was faster than the Chicago marathon course, where he had run 2:03.45 the previous year, which was 22 seconds shy of the world record. "Berlin is a flat course, and the weather is more favourable than that of Chicago," he had said.
Secondly, Dennis Kimetto told me that he felt more prepared than when he ran his PB, the then-third-fastest marathon time in history. His answer, when I asked him whether his shape then felt like when he ran in Chicago, caught me unawares.
"No. My shape is not like when I ran at the Chicago Marathon last year; I am in a much better shape now!" was the surprising response.
Thirdly, he understood the Berlin course better. It would be his second time running on the course, the first time being when he was debuting and had run shoulder to shoulder with Geoffrey Mutai for the better part of the race before being edged by one second to take the second position at the finish line. He said from that first race, he realized some mistakes he made, which prevented him from running a better time. He then ran three other marathons that helped him learn more lessons about running well in the marathon.
Fourthly, no one had informed him that he was running within the world record pace during the Chicago Marathon, nor were they given time splits after every 5 kilometres.
Fifthly, Kimetto had proved to be one special athlete full of surprises. He debuted to the marathon in a time of 2:04.16, and people still complained that he didn't run his best because he wanted to let his training partner win the race. He came seemingly out of nowhere to run a world record time in the 25km. He would definitely be capable of running another surprising time in Berlin, and that would be the world record. Every marathon fan wanted to watch him run that year in the spring season, but a hamstring injury had forced him to drop out of the Boston Marathon. He had recovered well from the injury and was out to silence his critics.
Sixthly, he was purposely going for the world record, had come out clear on it and had made plans on how to go for it.
"If the pacemakers will do their job well and the weather will be fine, then I don't see why the world record will not be broken. Besides that, there will be strong competitors in the race. They will include Emmanuel Mutai, Geoffrey Kamworor, and Tsegaye Kabede and I believe they will help push the pace later in the race after the pacemakers have done their part," said Kimetto. "We have not yet met to discuss the right pace to use, but I believe we shall all meet before the race and agree on crossing the halfway point in preferably 61:40," he added.
With a recent interview I had with Geoffrey Kamworor, who was also focused on winning the Berlin Marathon that year, everything was shaping up for a great show and one race not to miss.
If you need an online long-distance running coach to guide your training for your next marathon, You can enroll in my Online coaching programs
Follow my Twitter handle for running-related content.
I am a long distance runner. A World Athletics Certified long distance running Coach, and Freelance Sports Journalist. Work appears at World Athletics, RunBlogRun, Spikes Magazine, and Run Republic, among other websites.