If only Edwin Kosgei wasn't a Kenyan marathon runner, his 2:07:51 performance would probably have placed him in the Olympic Marathon Team!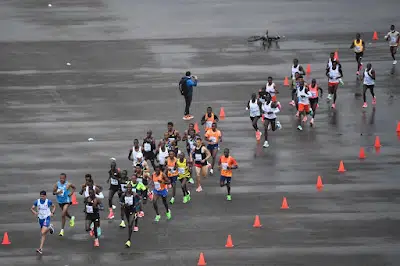 Kosgei at sienna Marathon
After landing in the country on 13th April from Sienna, Kosgei could not hide his happiness as we talked on the phone. He had just bettered his marathon personal best time from 2:10:11 to 2:07:51, a time that has now placed him in the top 220 in the World Athletics marathon rankings. If only he wasn't a Kenyan marathon runner, he probably would now be joining his friend and longtime training partner, Vincent Kipchumba in the 2020 Tokyo Olympic marathon start list.
 "I never knew it was possible!" Kosgei said. 
"All I ever needed was a little bit more perseverance in training, a few more adjustments in the speed workouts we were doing, and believing in myself during the race. In the past, I used to think that the sub-2:08 runners were superhumans in some way and would let them go in a different leading pack, but now I know that it is possible for any runner to run 2:07 with the right focus in training and in racing," he added.
A fast marathon time has always helped change the lives of many long-distance runners considerably, and I could understand why despite not finishing on the podium and not making the Olympic team, Kosgei was so happy with the results.
The ultimate goal for a Kenyan marathon runner
For a long time, running a 2:08 marathon has always been the ultimate goal of most male long-distance runners in Kenya. I remember in 2007, while at Kapsait Nike athletics training camp, a runner who was not in any management had run a 2:08 time and a big car with a personal driver was sent to take him and his family to stay in a big undisclosed hotel (to avoid other agents getting to him) as he awaited a manager to come all the way from Europe to discuss a contract with him. 
In the Xiamen Marathon and Tuscany Camp Global Elite Race where nine athletes finished under 2:07 and 20 ran under 2:09, Kosgei was placed 13th overall. Kosgei got great inspiration when his training partner got named into the Kenyan Olympic marathon team earlier in the year.
In 2013, Wilson Kiprop the 2010 world half marathon champion had formed a small training group near the Eldoret International Airport. 
At that time, Kenyan marathon runner Vincent Kipchumba was not even among the strongest in the group. The best three were Kiprop, Kosgei and Boaz Kiprono. Watching Kipchumba train the way he did to rise to the level he is today was a real-life lesson for Kosgei, that everything was possible with the right training. Kosgei also admits that the new Adidas racing shoes could also have contributed to his huge new marathon time improvement.
If you need an online long-distance running coach -an active Kenyan marathon runner- to guide your training for your next marathon, You can enroll in my Online coaching programs
Follow my Twitter handle for running-related content.
Justin Lagat is a long distance runner. A World Athletics Certified long distance running Coach, and Freelance Sports Journalist. Work appears at World Athletics, RunBlogRun, Spikes Magazine, and Run Republic, among other websites.