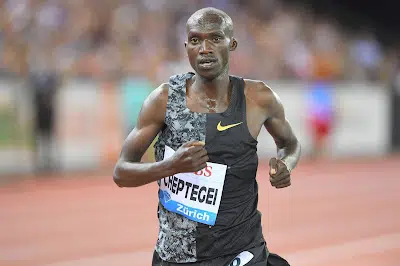 How Joshua Cheptegei's race unfolded
Just 3 minutes into the 10km race that had started off at the same time as the Valencia Marathon race on the 1st of December 2019, Uganda's Joshua Cheptegei had exhibited a strong determination to break the 10K world record. He even momentarily stepped ahead of the pacesetters appearing to be a little bit uncomfortable with the first kilometre split of 2:42.
Slower pacesetters were not going to affect his destiny. Out of the three pacemakers, he was remaining with just one of them at the 4km point, and he was alone at the 5km point I which he crossed it in 13:24. And, even without the help of the pacesetters, Cheptegei ran the second half of the race even faster than the 5km world record by 8 seconds, crossing it in 13:14.

Joshua Cheptegei's winning time of 26:38 (unofficial) was six seconds faster than the former world record held by Kenya's Leonard Komon of 26:44.
As though it was a confirmation of the ideal weather conditions to run fast times in Valencia at this time of the year, course records also fell in the men's and women's marathon races.
With about three kilometers to go in the men's race, Kinde Atanaw Alayew of Ethiopia used a 2:46/km split to begin opening up a gap on Ozbilen Kigen and Guye Adola. Of the three runners who had remained in the leading pack up to the 38km point, Kinde had been the one who had appeared cal and patient almost throughout the race while Ozbilen had at times appeared eager to break away; it would later appear that perhaps he had the European marathon record in his mind.
Alayew set a new course record of 2:03:52 to win the marathon ahead of Ozbilen Kigen who came second in a new European record of 2:04:16, breaking the 2:05:11 held by Mo Farah. Adola took third in 2:04:46.
Roza Dereje Bekele also set a new course record of 2:18:31 in the women's race in a close finish ahead of Azmera Gidey and Birhane Dibaba in 2:18:34 and 2:18:47, respectively.
If you need an online long-distance running coach to guide your training for your next marathon, You can enroll in my Online coaching programs
Follow my Twitter handle for running-related content.
Justin Lagat is a long distance runner. A World Athletics Certified long distance running Coach, and Freelance Sports Journalist. Work appears at World Athletics, RunBlogRun, Spikes Magazine, and Run Republic, among other websites.