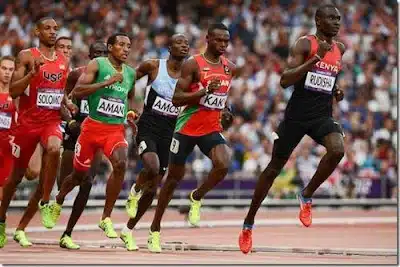 World Athletics just named David Rudisha's 800m run at the 2012 Olympics as the moment of the decade. Here is a story I had written just after watching his run.
David Rudisha's run at the 2012 London Olympics
Eighty thousand spectators at the London Olympic Stadium and millions of others watching TV screens at various places across the world witnessed a spectacular 800m race. The start gun went off. Seeming to take advantage of his long strides, David Rudisha immediately stepped ahead of his competitors and effortlessly continued to open a gap crossing the first lap in 49 seconds.
Within 1 minute and 40 seconds, it was over! An Olympic Gold medal had been won, and a world record smashed. The significance of what just happened, to me, appeared too much to have all happened too quickly. Like everyone else, I agree that it was a result of hard training and progressive runs over many years. But, for now, I am only thinking about what this victory means for David Rudisha, Kenya, his community, and his coach, among others.
Rudisha's life after the run
First, Rudisha's performance brought glory to his nation and saved it from what would have been a worse scenario at the Olympics. Apart from the men's 3000m steeplechase, the results of the other events where Kenyans had a lot of hopes to win gold medals had been below their expectations.
These included the women's marathon, the men's and women's 10000m, women's 3000m steeplechase and the most disappointing of them all, the men's 1500m. Rudisha's performance brought back some morale to the Kenyan team and helped put Kenya's name where it rightfully belongs as far as the middle distance running is concerned.

Second, Rudisha's performance put his Maasai community on the world map, which may end up bringing investors and organizations that will help improve the livelihoods of the populace there. A charity organization based in the UK, being supported by Richard Branson's Virgin Unite Organization, is now seeking to have Rudisha as one of their ambassadors to promote their initiative of providing free education, sponsoring more teachers and building more teaching facilities for the children in the local community that appear marginalized around the Maasai Mara.
This organization has been working in the area for some years now and it feels that David Rudisha's image will inspire the Maasai children and signify to the world the potential of a Maasai child when he gets the means to pursue his/her dreams.
Third, David Rudisha is now a role model and will influence and shape the character and determinations of many other young people. I spoke with Brother Colm O'Connel, his coach, sometime in 2010 and he told me the secrets behind his success, besides his natural talent and unique running technique.
It all lies in his discipline. David Rudisha is focused on what he wants to achieve, he is fully committed to his training and is willing to sacrifice many pleasures to make sure that his training is his first priority.
Fourth, the Irish priest who has helped mold and train a number of Kenya's Olympic Gold Medalists and world record holders that include Peter Rono and Wilson Kipketer, among others, but prefers to keep a low profile, has again been brought to light by Rudisha's performance.
Brother Colm has been training young Kenyan athletes at St. Patrick's High School in Iten from 1976. He must be one of the most experienced coaches in this world and is worthy of special recognition.
Fifth, from the money he will begin to earn from brand endorsements, contracts from cloth's manufacturers, and appearance money in races, the financial status of Rudisha will change for the better.
Sixth, Rudisha is now irrevocably a legend. With his status, he will be able to have a say in affairs to do with international running. He will be a guest of honor at various functions, regardless of whether they are related to running or not. He now stands a better chance of holding one of the biggest offices in the IAAF upon retiring from competitive running. His life is changed forever and doors are open for him everywhere.
What I have written might just be the tip of the iceberg of all that really happened within 1 minute, 40 seconds and 91 micro-seconds! I am sure that this performance means a lot more than anyone of us might be able to imagine.
If you need an online long-distance running coach, You can enroll in my Online coaching programs
Follow my Twitter handle for running-related content.