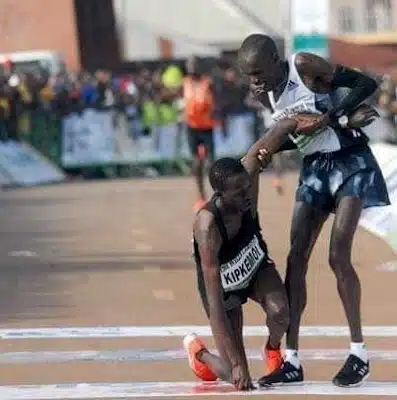 Jacqueline Nyetipei helps a running
drink water in a race
For yet another time, a Kenyan runner, Simon Cheprot, has captured the hearts of many fans not because of their running, but due to their kind and humane acts during the race.
This was in an almost similar incident to that of Jacqueline Nyatipei did stop on her way to winning a marathon in China some time back to offer water to a disabled athlete who was clearly struggling to keep on running
No one could enact the drama of the biblical Good Samaritan more than Simion Cheprot this weekend in one of the biggest 10km road races in Africa.
Simon Cheprot lost time and money to save fellow runner
While those who would have been in a better position to step in and help just stood there and watched as Kipkemoi crawled on the ground as he struggled to get up, Simon Cheprot came from behind.
For any other athlete, it would have been a golden opportunity to pass by the struggling runner and finish in a better position. But not for Simon Cheprot. He stopped to pick up the struggling runner and carried him to the finish line despite other runners running past him in the process.