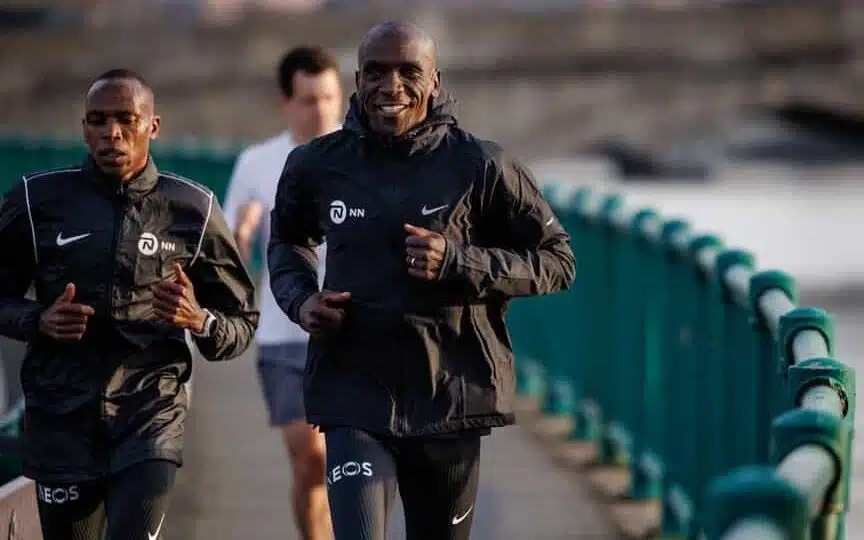 Will it be Eliud Kipchoge or Evans Chebet taking the victory at the 127th Boston Marathon? Below are some interesting facts to consider as we make our predictions.
One of the most anticipated marathon races this year is about to go down on the streets of Boston on Monday, the 17th of April.
Battles between two or more great runners have always been a recipe to keep athletic fans glued to their screens. The battle on Monday will arguably be between Evans Chebet and Eliud Kipchoge.
Will Chebet defend his 2022 title against Kipchoge, the greatest marathon runner of all time? Will Geoffrey Mutai's twelve-year-old course record go down? Will we see a dark horse emerging to win the race?
Of all the course records for the World Marathon Majors, Kenya's Geoffrey Mutai holds two of them; the 2:03:02 for the Boston Marathon and the 2:05:06 for the New York City Marathon.
On the other hand, his long-time training partner from Kapngetuny, Dennis Kimetto, holds the Chicago Marathon course record, while Kipchoge holds course records for the remaining three marathons.
What are the chances for Chebet winning?

Could this be an indication that a winner at the New York City Marathon has a better chance of winning the Boston Marathon, and that Chebet being the defending champion of both the New York City and Boston marathons stands a better chance to defend his title?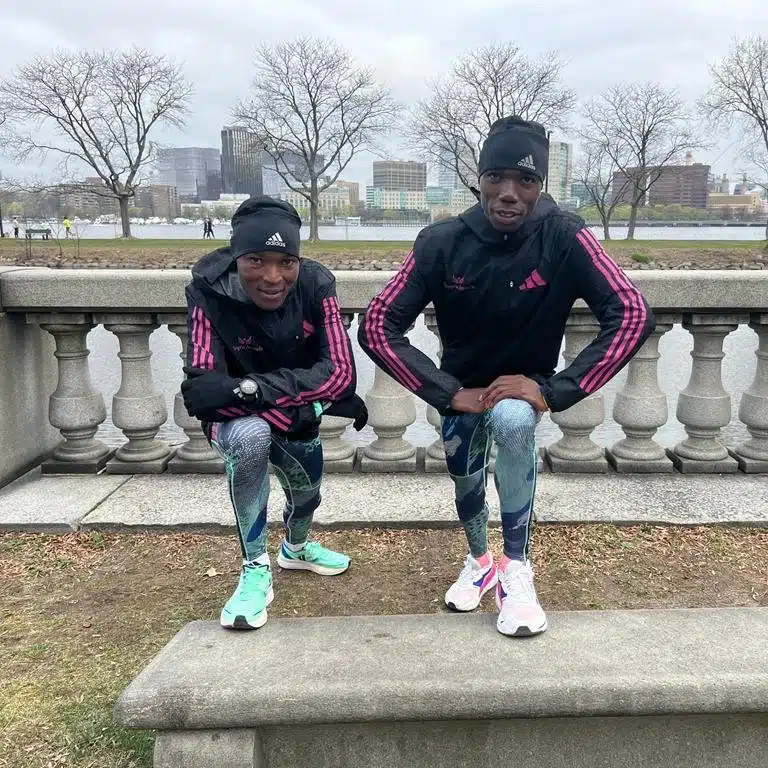 The other advantage that Chebet has is that most of the past Boston Marathon champions have been training in Kapsabet, in Nandi County. 2003, 2006, 2007, and 2008 champion, Robert Cheruiyot (Mwafrika), used to train in and around Kapsabet. Perhaps, moving to Kapsabet may have been Chebet's secret to following in the footsteps of Mwafrika.
As though to confirm that the training location matters, the 2022 women's champion, Peres Jepchirchir, also trains in Kapsabet.
Kapsabet's landscape has rolling hills and valleys. It is unlike other training places where the course would turn easy or hard depending on the direction you head to. There are various surfaces for training, from tarmac to murram to soft footpaths. It is difficult to go over a kilometre without encountering a hill or a valley.
It is an almost similar terrain to that at Kapngetuny where the course record holder, Mutai, used to train.
While admitting, in a recent interview with the writer, that several factors contributed to the great memorable run on the streets of Boston in 2011 -which became the fastest marathon time in history-, Mutai gives credit to USA's Ryan Hall for his course record of 2:03:02 that has stood for over twelve years now.
"Urged on by the home ground fans, Ryan Hall seemed determined to break away from the men's elite field, and we kept following him. At times he would create a gap of almost 100m. We would fight hard to close the gap again several times.
"Besides the fast pace set by Hall, I also had a great competition from Moses Mosop, and the weather for that day was perfect for a good run," Mutai said. Mosop would finish second in 2:03:06.
A successful cross country season he had before the Boston Marathon prepared Mutai well for the undulating course.
"I had a great cross country season just before the Boston marathon, and it did build my endurance and speed," Mutai, who had finished 5th at the 39th IAAF World Cross Country Championships in Punta Umbria less than a month to running Boston, said.
Can Kipchoge set a new course record?

Mutai has already gone through the men's elite start list that has the world record holder and three other men who have run under 2:04:00 for the marathon. He thinks that it is one of the best fields ever assembled for a marathon race.
However, he believes that for a course record to be set, everything has to work well for the runners there and that the usually unpredictable weather in Boston will play a great role in the times that will be posted.
Read the full men's preview at the Run Republic website: Preview of the men's 2023 Boston Marathon
You can follow my Twitter handle Justin Lagat, for updates and insights during the race.
For online marathon coaching queries, check out my Training Packages