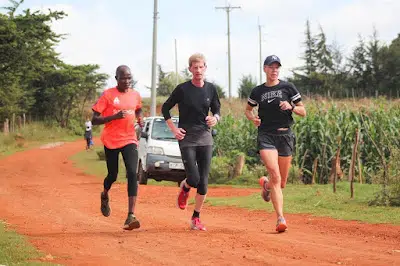 Satisfaction from running online coaching
Running online coaching activities did provide me with some moments to cherish out of what was arguably the worst year for many. 2020 was a year full of many challenges and hard times, but the determination and the results from the runners that I coached online cheered me on.
In a world where people are easily being fooled into buying well-packaged but useless items, the past year taught me to always offer the best quality in whatever I do and to make sure that in my running online coaching, clients get value for their money.
Even when there were no races to run for some due to the covid-19 pandemic, most of my clients nonetheless ran their personal best times in their training runs.
From my running online coaching, I have gotten to meet a lot of amazing runners. One of them is Terrence. He did run some personal best times in some of his training runs, and seeing the effects that my online coaching program had done on him, he decided to pay for up to six months of my online coaching in advance.
I thought he wanted to do that to get some discount, but instead, he wrote, "Am extremely pleased with the results so far, and I believe in value for money. So no further discount required."
"Your training has gotten me to shave 14 minutes off my 25k runs and 6 minutes off my half marathon. So I know it's improving my fitness. Yet I do want to improve my aerobic fitness. My 10k and 12k and even my 5k show me that while my speed has improved, my aerobic fitness is a limiting factor.
"I have invested in Merrell running shoes and they have made a huge difference.
"I have changed my diet to include more (good) fat and protein. And there is still room for improvement here.
"I have also invested in the Coros running watch and earbuds that will track my heart rate," Terrence wrote in an email.
Anthony Galsim, who just joined my list of my running online coaching clients three months ago, wrote, "I feel like I am getting much stronger. Usually, I get a soreness that lasts days and my average mileage is in the upper 40s-50s a week. Yesterday's workout felt very good in the end. I could have kept on going, but I knew I had to stop one way or another.
Thanks again and I appreciate everything."
When Farrah Carbonell started to train with me, her aim was simply to be able to finish a marathon race and hopefully qualify for the Boston Marathon. But, with time, the marathon distance began to look short and normal for her and she started thinking of some much bigger challenges for herself.
Carbonell actually did the Destober October challenge with Desiree Linden, where she ran over 496 miles in 31 days with back-to-back marathons in the last six days of the month!
This was just to sample a few of the positive feedback that I was getting from running online coaching in 2020, which makes me extremely happy to know that what I am doing is having a great positive impact on the running experiences of clients who choose to work with me.
It has been a challenging year for a number of my clients. Some even lost their jobs, and we had to try and find a way to ensure that they continued with their training.
I hope 2023 will be a better year for everyone and that the runners who had to pause their training for whatever reason will join back.