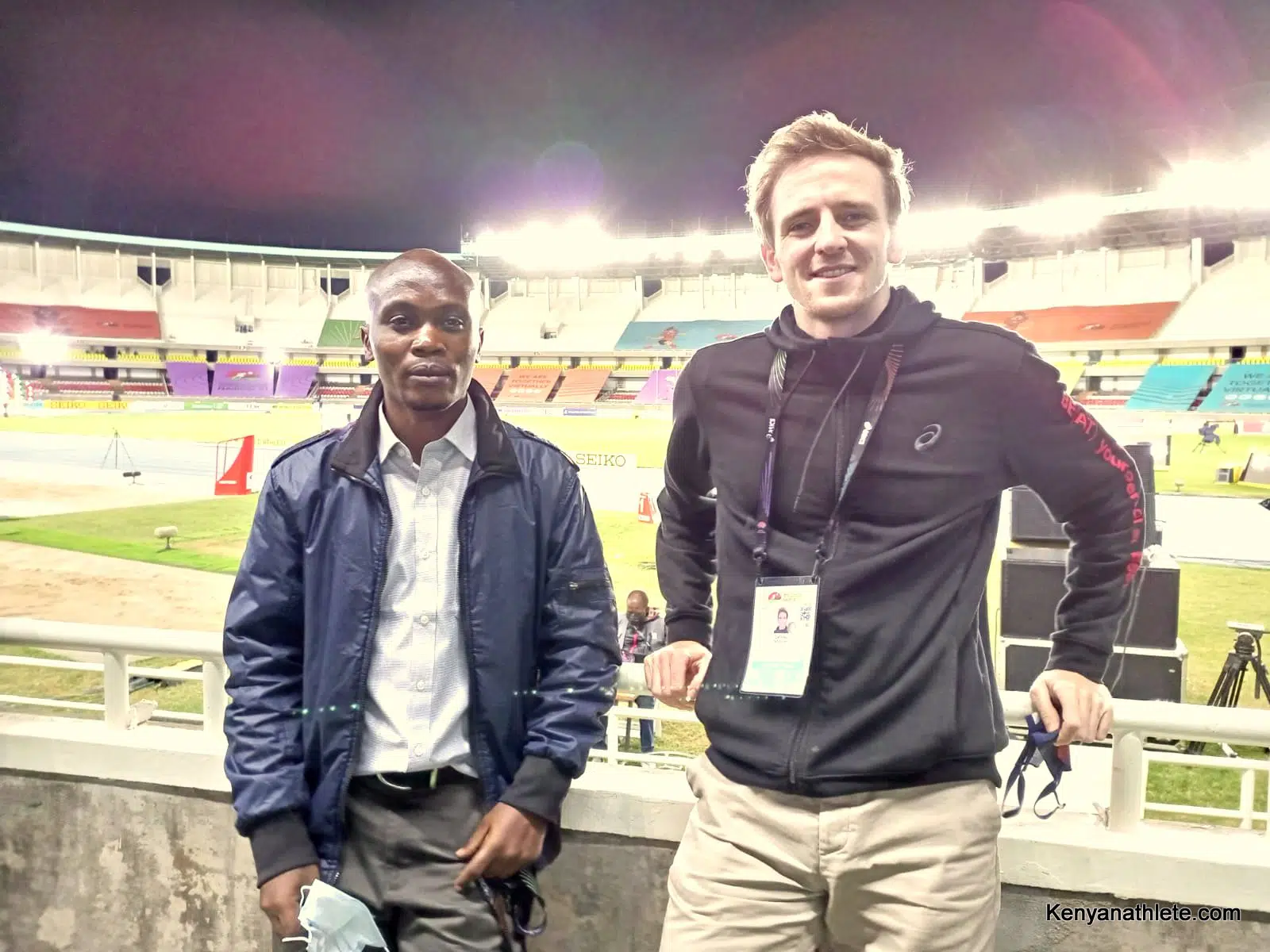 With Cathal Dennehy at the end of the WU20 championships in Kasarani, Nairobi
Here is a brief interview I had with Cathal, who was part of the World Athletics editorial team at the WU20 championships in Nairobi in August.
Cathal Dennehy is a very busy man, and he was so at the World Athletics Under 20 Championships in. In the morning, he was doing a lot of writing, then  talking non-stop on the live World Athletics TV (the Twitch tv) the whole of the afternoon. So, I find the few minutes he gave me as "all the time he had in the world" that he sacrificed for this brief interview.
Cathal Dennehy answers a few questions
1. What is the hardest part of announcing a long meeting?
Cathal Dennehy: Filling the time. Some events may take up to 8 hours long and the best thing to do before is to do enough research on all the athletes competing. If you haven't done your research, it can get very painful in trying to fill the time.
Without enough research, you might be announcing one athlete that you think will win, then another one you don't even know anything about wins it and you appear like a fool.
2. Your biggest Tokyo Memory?
Cathal Dennehy: Despite being exhausting due to the heat and humidity, knowing that a lot of people could not get the chance to be there to enjoy the games due to the pandemic, I could not complain about anything because it was such a privilege to be there, and the athletics events were amazing.
One moment that stands out to me was Warlholm's 400m hurdles world record. It was stunning. Everyone was thumb-struck and we all went silent in the stadium after that. It was hard to believe he could run 45 seconds while jumping the hurdles.
Another one was Eliud Kipchoge's performance in the marathon. His humility and ability to make things look easy are what I like about him. There were some people doubting him after his last performance in London. But, in the last 10km of the Olympic marathon race, he was majestic.
Sifan Hassan's treble was also interesting and entertaining to watch. Faith Kipyegon was amazing in the women's 1500m. Joshua Cheptegei also, after finishing second in the 10,000m then coming back to win the 5000m gold medal.
3. Your favourite part of announcing?
Cathal Dennehy: When announcing a great race. Adding some enjoyment level to the viewer watching a race is my favourite part.
When an announcer is excited about the race and the results, the viewer will also get excited as well.
If you need an online long-distance running coach to guide your training for your next marathon, You can enroll in my Online coaching programs
Follow my Twitter handle for running-related content.
Justin Lagat is a long distance runner. A World Athletics Certified long distance running Coach, and Freelance Sports Journalist. Work appears at World Athletics, RunBlogRun, Spikes Magazine, and Run Republic, among other websites.