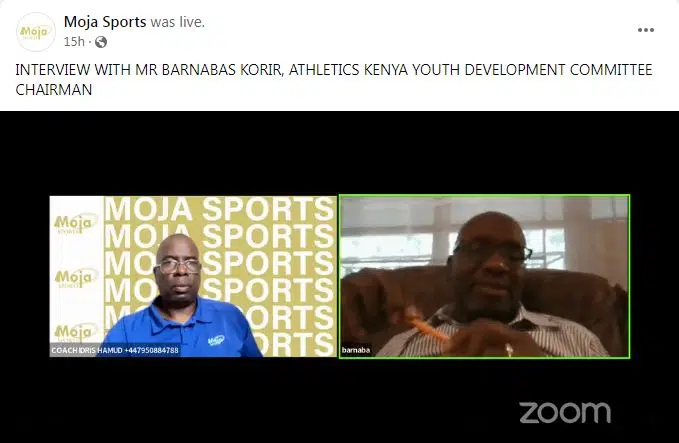 Speaking to Moja sports on a live Facebook interview, Barnaba Korir who is the Athletics Kenya Nairobi branch chairman and head of the youth development committee in the country spoke on the Athletics Kenya selection criteria that will be used to get the team to represent the country in the upcoming major global event; the World Athletics Championships and the Commonwealth Games.
He said that the matter of meeting all the requirements to represent the country is going to be even more complicated and tougher than last time, citing the controversial story of Kamar Etyang who qualified to make the team by finishing in the top three qualifying positions at the trials but failing on the number of anti-doping tests that needed to be conducted on him before attending the championships.
"Rules that emanate from Worlds Athletics do not come from Athletics Kenya, it is about the rules from WA. We need to abide by the rules. We need to go by rule 15. ADAK is an independent institution mandated to test athletes in Kenya. We are in category A according to WADA. We are on the edge. We have many athletes still testing positive. Even if we only get 10 athletes making it to the World Athletics Championships, we better do so but stick with the rules," he said.
Here are the 4 critical areas the athletes should meet in accordance with Athletics Kenya selection criteria
-Meet the qualification standards of the World Athletics Championships and of the Commonwealth Games
-Meet three anti-doping tests in the stipulated time
-Go through two anti-doping education seminars
-Finish in top two at the national trials
Athletes who have great potential to place the country on the medal table may get a second chance in case of a bad day at the trials.
"Technical officials will have a say on the 3rd athlete, in good faith. We need to pick the best team to represent the country and if a top athlete like Faith Kipyegon may have had a bad day at the trials, the technical officials can have a say in that.
"Essence of one trial and one team to go to both the WA and the Commonwealth Games is that both teams need the best to attend their championships; except for the athletes who meet the qualification for one event and not the other," said Korir.
For the sprints and field events, there may be no need to do the trials in events that we have just one or two athletes qualifying, like for the men's Javelin.
"We have to refocus more on sprints and the field events. We need to have the facilities and infrastructures to support this, the starting blocks, the gyms, and qualified coaches," said Korir.
You can check out the Facebook interview here