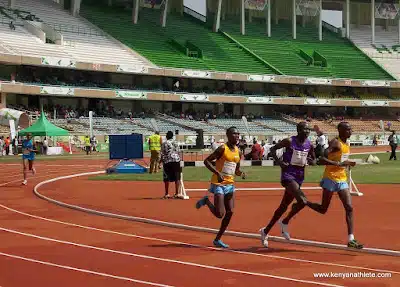 The road to the 2023 Budapest World Championships has already started for athletes interested in winning medals there. Here is the typical Kenyan training for the 5,000m track event.
This event is the closest to the middle distance in the category of long distance events and therefore requires more speed workouts than the other long distance events.
Many athletes who do well in this event also do well in the 1500m. Bernard Lagat of the USA, Augustine Choge of Kenya and Hicham El Guerrouj of Morocco are examples of athletes who have been doing well in the 1500/5000m distances. But, there are others who do well in the event and also in the 10000m, like Mo Farah of Great Britain, and Kenenisa Bekele of Ethiopia.
There are three stages of training for the 5000m event, i.e. the loading stage, the speed workout stage and the race preparation stage.
Loading Stage for the 5000m
This is the first stage in the training, which may go on for two to three months, depending on the targeted race. The athletes concentrate mostly on covering as much distance as possible without caring much about their speed. The word "loading" is short for mileage loads.
Athletes at this stage go for two runs each day which include a one hour run in the morning and another 40 minute run later in the day. They close the week with a 1hr 20min to 2hr run on Saturday and then take Sunday as a day for rest.
Contrary to the hill workouts done in the later stages, the athletes find a hilly route which can go up for 10 to 15km, then do a moderate run up the route once a week, mostly in the middle of the week.
For about two months, the athletes do not step on any track for their speed workouts, but this doesn't mean they do nothing on speed. At this stage, athletes gradually go for fartleks which are relatively longer and slower than the ones they will be doing in the later stages. The cross country season often coincides with this stage for most track athletes and participating in cross country meetings helps them establish a good base for their next stage in training 
5000m speed workouts/intervals Stage
This stage may be relatively shorter than the first one, but is one that needs maximum aerobic effort by the athletes. It mostly centers on speed.
Athletes often use the intervals at this stage to predict the time they want to run in the race. For example, to cross each 400m lap in 63 seconds comfortably in a race, an athlete should be able to do 400m intervals of 59 seconds twelve times. There are intervals of 600m, 800m, 1000m, 1200m, 1600m and 2000m.
Here are some examples of the common track workouts
400m (59seconds) x 12 -1min recovery.
600m (1:29) x 8 -1 min recovery
800m (2:02) x 6 -11/2 min recovery
1000m (2:37) x 5 -11/2 min recovery
1600m (4:12) x 3 -2mins recovery
2000m (5:30) x 2 -2mins recovery
The program is prepared in such a way that there is a moderate one-hour run and a very easy 40 minute jog a day in between days of hard workouts so that the athletes recover enough.
Faster female athletes often employ the services of male pace setters to push them harder and meet their target times in intervals.
During track workouts, athletes often go to track facilities situated at a place that lies lower in the altitude from where they often train and stay. This makes them maximize their speed.
A day's track workout should all add up to 4km – 5km.
Race preparation for the 5000m event
A few days to the race, about three weeks, speed workouts of 200m are included to help in the finishing kicks. It is also a stage where everything is balanced, including skipping some usual easy runs so as to preserve some more energy in the body ahead of the races.
 The hill workouts at this stage are also shorter and more of speed workouts. It includes 400m uphill sprints 15 times, or all-out 100m uphill sprints 20 times.
Note: You can get a certified Kenyan Online Running Coach to guide your training for your upcoming long distance running, or marathon event. Or, follow my Twitter handle for running tips