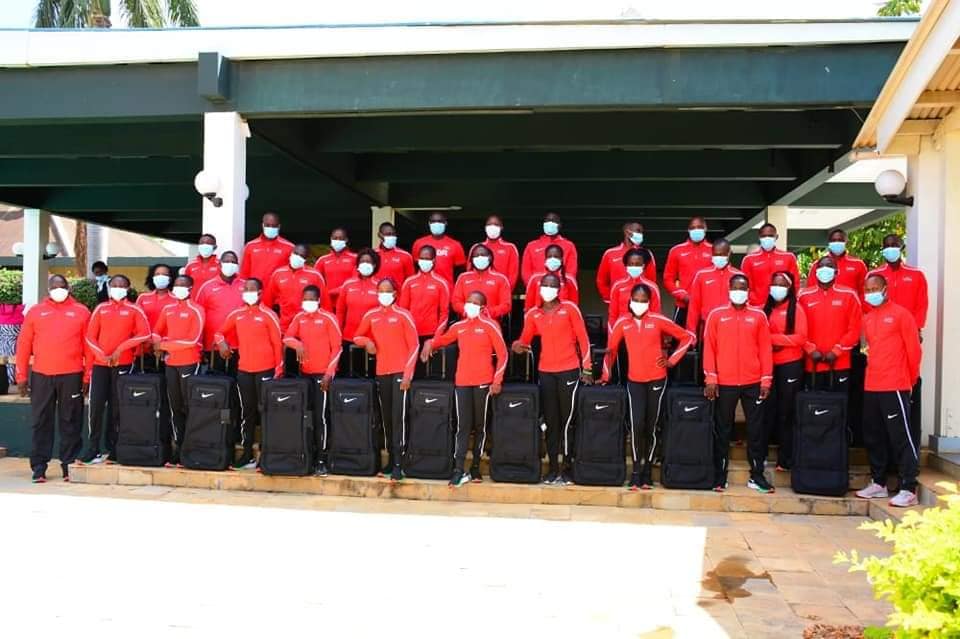 Team Kenya heading out for the world relays (Photo by Athletics Kenya)
The prospect for Kenya's team that is already in Selesia and ready to represent their nation tomorrow looks more promising than it had ever been in the last editions of the world relays.
At the last world relays in Yokohama, USA had placed on top of the medal table with 22 gold medals followed by Jamaica with 5 and Kenya was in the third position with 3 gold medals. With the absence of both the USA and Jamaica at the Silesia world relays, Kenya stands a better chance of emerging on top of the medal table.
Already Kenya, Germany, and Poland have guaranteed medals to win in the mixed shuttle relays, to start off their medal hunt on the first day, if only their athletes finish the event, and are not disqualified. This is a relatively new event at the world relays where two men and two women on each team run 110m hurdle legs. There are only three countries that are entered in the event that will be one of the two finals on the first day of the championships, and three medals to be given out!
The other final of the first day (1st May) will be the 2X2X400m mixed relay. Six countries have entered the event. Kenya appears to have a strong field here with the world 800m bronze medalists, Ferguson Rotich and Commonwealth 800m champion, Wyclife Kinyamal featuring in their team. At the last world relays in Yokohama, Kenya had led from the start only to be disqualified in the end under rule 163.6. The main opponent for Kenya here will be the host nation of Poland that also has a considerably strong team and the home ground as an added advantage. There will be seven finals on the second day, the 2nd of May: The day will feature the more established and well know relays that have more countries entered in them and that will have their heats being done on the first day. These will be the 4x400m mixed relays, and the men and women 4x 100m, 4x200m, and 4x400m.
The Kenyan team may be affected by the fact that a number of their best runners including Zablon Ekwam and Hellen Syombua were left behind due to various undisclosed reasons.