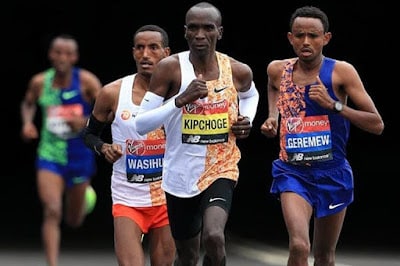 A proper marathon training program usually takes around 17 weeks, which won't happen for Ethiopia's Marathon team selected to represent the country in Sapporo after their Olympic trials this weekend.
It is a year with many uncertainties caused by the pandemic, but it is more so for the Ethiopian marathon runners who are yet to be named in the national team to represent their nation at the Tokyo Olympic Games later in July.
As their neighbors and strong opponents in Kenya are busy strategizing on how to run well in Sapporo, Japan, Ethiopia's Marathon team is still focusing on how to make the team at the relatively high altitudes near Adis Ababa.
The Ethiopian marathon national trials will happen this Saturday in Sebeta, a few kilometers away from the country's capital city. The first three to cross the finish line will make the team to th Olympic Marathon event in Sapporo.
Already, Kenenisa Bekele has protested the trials happening so close to the Olympic Games saying that there will be so little time to train for the Olympic race after. In what appears to be a huge blow to the Ethiopian federation, Birhanu Legese and Mule Wasihun are also expected to miss the trials and eventually a slot in Ethiopia's Marathon team.
Below are the athletes expected to participate in the trials.
Men:
Kenenisa Bekele
Birhanu Legesse
Moisenet Geremew
Mule Wasihun
Getaneh Mola
Sisay Lema
Herpasa Negasa
Kinde Atanew
Lelisa Desisa
Shura Kitata
Chalu Deso
Mekuanint Ayenew
Delu Gelmesa
Women:
Roza Dereje
Birhane Dibaba
Degitu Azmeraw
Tigist Girma
Zeyneba Yimer
Ruti Aga
Mare Dibaba