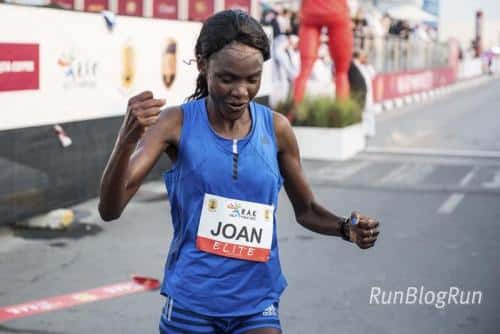 This week, I was greatly honored to interview Joan Chelimo; the world's 23rd ranked women's marathon runner in the world and a 65:04 half-marathon runner. We talked about her marathon plans for this year and her preparations to run the 2022 Seoul Marathon, among others.
Below is a sample of the interview and a link to the full interview at RunBlogRun.
Chelimo will be running Seoul Marathon on April 17th. She revealed this during an interview with RunBlogRun where she talked about her plans for the year, Letesenbet Gidey's world record in the women's half marathon distance, and the Tirop's Angels' foundation that they have formed to help both men and women in abusive relationships.
Despite being well-known and respected in the half marathon distance after having run 65:04 at the Prague half marathon in 2018, which was the fifth-fastest time in history at that time, Chelimo is now concentrating more on the full marathon distance.
"I am still a good half-marathon runner, but I am now getting to learn more on how to do well in the marathon as well. I will now be going for my fourth marathon in April. I do believe I am a sub 2:20 marathon runner, I know I have it in my legs and so my target this year will be to run under two hours and 20 minutes. Although I can't say I will be going for that time in Seoul since I have never run on the course before and I can't tell how tough the course will be,' said Chelimo, whose personal best time of 2:20.57 which she ran in her second marathon in Valencia, is just 57 seconds out of that.
"My main target for Seoul Marathon will be to have a good run and make it to the podium. I know everybody is coming there well-trained and wishing to win," she said.
But, while her main focus is now on the marathon, Chelimo says she will still be happy to do a number of shorter distances in between, including the 5000m and 10,000m distances on the track, to sharpen her speed.
Chelimo who acquired Romanian Citizenship in May last year would have wished to be at the World Athletics Championships in Oregon this year but is still awaiting clearance from the world athletics governing body to clear her transfer in order to be able to represent her new country.
Here is the full interview on the RunBlogRun website: An Interview with Joan Chelimo: dreams of breaking 2:20...