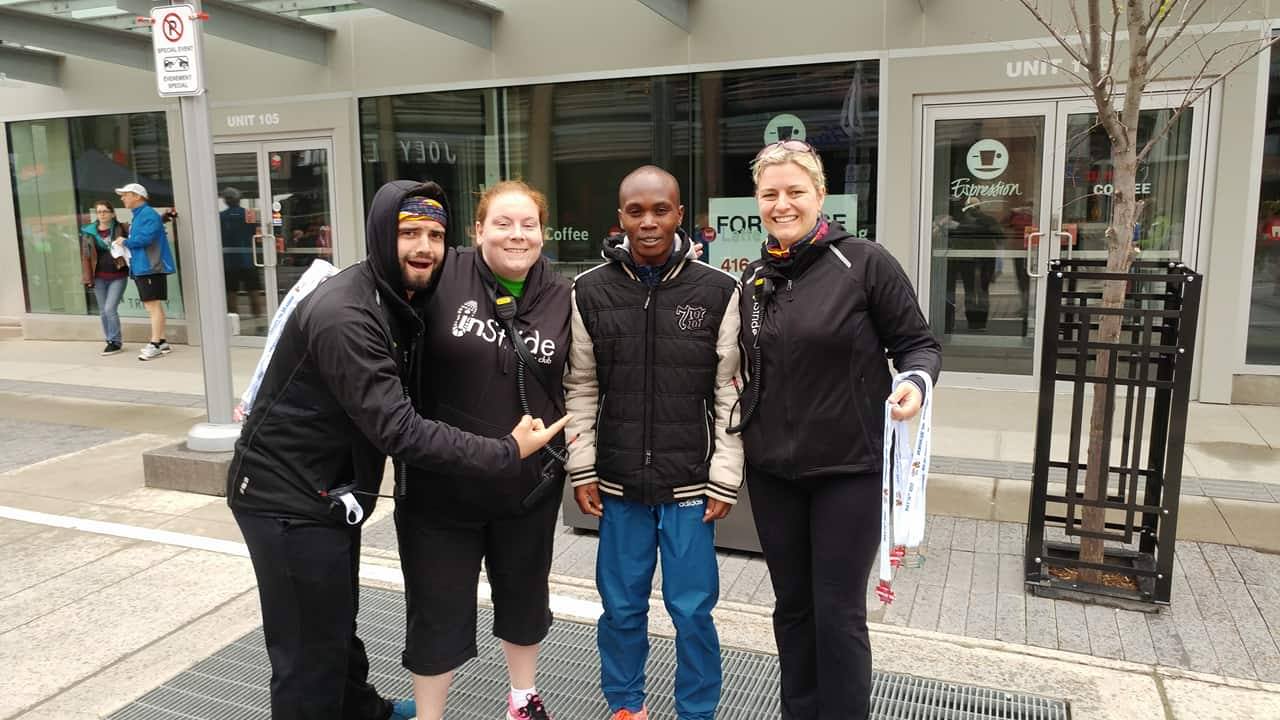 Kenyan Athlete with fans in Canada
The happenings from 2016 to 2018 have inspired me tremendously to take up the job of helping others improve their fitness levels.
I offer my online training programs now on three levels:
A Gold label is $85 per month, where you get unlimited communication with me on a daily basis regarding your training; from recovery, nutrition, injury prevention, and any other concerns you may have. I will provide you with individualized weekly training programs, assess your progress on a weekly basis before checking if any adjustments can be made before issuing another weekly program. You get to communicate constantly with me throughout the week via email, FaceBook and WhatsApp chat/calls.
A Silver label is $75 per month, where I issue you with an individualized weekly training program via email. You get to communicate constantly via email in case of any concerns and questions regarding your training in the course of the week. I assess your progress at the end of the week and issue another program.
A Bronze label for the next month will be $68 per month. You get all the benefits of the gold label, only that you will have to pay for 3 months in advance.
I have voluntarily coached a good number of runners over the last three years who have returned some amazing results in their running achievements. It has always been my passion to provide tips on all the dynamics of training from starting running, mileage loading, different types of speed workouts and when/how to start them, hill workouts, avoiding injury, and preparing a program that takes all these into consideration.
It started with my wife who had never tried running in her life before when she asked me to occasionally be taking her for some easy runs at times after my training. For the first few weeks, in around July 2016, she could only manage to alternate between jogging and walking. In a few months, she was already doing runs of up to 12km in her usual morning runs and even managed to run a 10km race within a year in which she finished it in 40 minutes at the Safaricom Iten 10km road race.She was more motivated than I was with the results and decided to become a serious runner after that. Her time now in the 10km is in the low 35s… just 2 minutes short of the average winning times ran by the professional Kenyan women runners at the local races here at high altitude! We are going for those times now.
A 45-year-old, online friend from Belgium, who has been following my blogs and articles on Kenyan running, approached me in February. He was new to running but had past experience in cycling. He wanted to train for the purpose of just finishing a half marathon for a start.
However, soon after I began giving him some programs and following up on his progress he quickly built some confidence and decided to go for a 1hr 37 minutes. On 14th April, just six weeks after using my training, he ran 1:29:19 which was almost ten minutes faster than the time he was aiming to run! We are now working towards a sub 1:20 in his next half marathon race.
I have also helped a number of young runners here meet their qualification times to get scholarships in the USA."Here, there is too much distraction, in a wider form, for example on nutrition. You don't want to know what people think/educate here on the topic. I have learned that patience is a talent, and Kenyans have that in plenty. I have observed Kenyan runners don't stress much on other things other than running. Here (in Europe), athletes do not have that determination since there is a lot of 'distractions'," observed Steven Vanlancker. This is what he has learned in the time he has taken my online coaching.
There is so much to learn from the Kenyan way of training and running. Do contact me for more questions and information at my contact email on my contact page - thekenyanathlete(at)gmail.com.