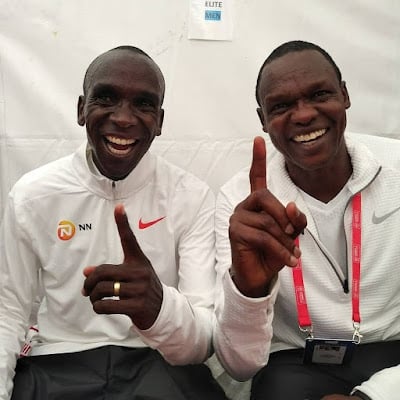 Eliud Kipchoge with his coach, Patrick Sang
The 16th of September 2018 was an exciting day for marathon fans across the world when Eliud Kipchoge treated them to one exciting marathon race on the streets of Berlin.
In Kenya, for the first time, there was a huge following of the race with restaurants and county governments in places where the highest concentration of athletes come from setting up watch parties. Some local sponsors also came in to be part of the partying. A local TV station also covered the gatherings and the celebrations across the country during the race.

From the first kilometer of the race, the reason why Kipchoge had been looking forward to the race was evident. He was in great form. A 2:43 per kilometer pace did not seem to show any straining effect on his face. The three pace makers going with him, especially Sammy Kitwara in the middle, appeared to be struggling a little bit. A few meters behind them, Wilson Kipsang, Amos Kipruto and Abera Kuma followed with another set of five pace setters.
At around the 14km point, Kitwara suddenly pulled out from his pacing duties. It was a moment that needed Kipchoge's mental toughness to take action and, appearing like an army general trying to encourage his fear-stricken troops to keep on fighting, Kipchoge asked the two remaining pace setters who appeared to be opening a space between them for him to pass through, to stay close together in front of him. But, it did not take long before another one, Bernard Kipkemoi dropped out before reaching 16km.
The remaining pace setter, Josphat Boit, managed to go with Kipchoge up to a point after 25km and Kipchoge quickened the pace a little after that, despite the fact that he was already safely inside the world record by a good margin. It would have been expected that the pace would soon slow down a bit after he remained alone at the front, but the opposite kept happening and the conversation on whether he was going to break the world record quickly turned into whether he was going to run under 2:02:00 for the world record.
The elated Kipchoge crossed the finish line in an astonishing time of 2:01:39, becoming the only human being to ever run the marathon under 2:02:00; not once, but on two occasions! Asked what next for him, he said he is yet to run 2:02 after having run 2:00, 2:01, 2:03, 2:04 and 2:05. He told reporters at the finish line that he could be going for a 2:02 next time. He actually did that at the London marathon this year winning it in 2:02:37.
Coach Patrick Sang seemed to have been certain that Kipchoge was going to set the new world record, but did not want to talk about it. He was already in a celebratory mode since the last Tuesday before the race when I last saw him at the track in Eldoret after Kipchoge had done his last track workout before leaving for Berlin. I had extended my hand to greet him and he suddenly pulled my hand so that my shoulder ended up knocking his. He smiled at me and asked why I posted the world record alert on my Twitter account of which I explained myself and he simply said, "Let's hope for good conditions." He was similarly jovial as he spoke with other runners and even spent more time than he would usually spend at the track after training. He definitely knew that everything had gone very well with the training plan he had given to Kipchoge.