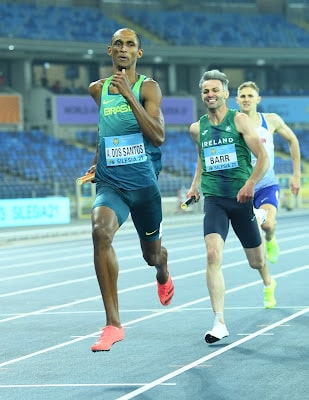 Dos Santos of Brazil in action. Photo by World Athletics
Brazil, and other countries including India, are some of the countries that have been hugely affected by the Covid 19 pandemic, and it was great to see them able to make it to the world relays. It should be a great inspiration to the rest of the world that it is possible to fight the virus and return back to our normal lives again, by following the set rules and guidelines by our medical experts. That the world has not yet come to an end and we can still play, enjoy life and stay active again.
Sometimes, when an election draws near, politicians employ many tricks to win the hearts of the electorates. One of them is that of acting as victims of some circumstances in order to gain some "sympathy votes."
One of the sad moments on the first day was that of Brazil getting disqualified in heat one of the women's 4x100m relay. Considering that other nations, like the USA and Jamaica, opted to stay out of the championships due to the pandemic, and the number of tests and commitment that the Brazilian team endured to appear at the relays, perhaps the officials should have looked at the incident where one of the runners stepped on the line more leniently.
There are no fans in the stadium; otherwise the sad incident may have certainly attracted more "sympathy" fans to cheer the Brazilian team in their remaining events that they have already sailed through to the finals.
So far, the remaining Brazilian athletes who are advancing to the finals today are showing a lot of determination and inspiration. As a fan of athletics, I feel obliged to cheer and support them for the message they are carrying to the rest of the world at these hard times; that, with the pandemic, it is still possible to pursue careers, to earn a living, and to enjoy good moments in life.